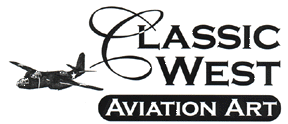 ---
Philip West's - "Habu 792 at MACH 3.0"
---
Richard Graham and RSO Don Emmons cruising their SR-71 in after-burner, gathering intelligence over the Soviet nuclear facility at Kamchatka, December 15, 1976. At 80,000 feet the SR-71 Blackbird is all but invisible to the three MiG-25 fighters seen contrailing at 45,000 feet below. Under radar control, the MiGs make a futile attempt to intercept, but with the SR-71 travelling at three times the speed of sound along the edge of the stratosphere, there is nothing they can do.
Limited edition of 500 signed and numbered by the artist. Suggested retail of $95.
Overall print size: 27" wide x 17 1/4" high.
---